https://www.facebook.com/events/1218041938337752/




Kent Island Photo Club at Western Tire & Auto:
Ongoing in 2018

The Kent Island Photo Club Has some of their artwork in the waiting room at Western Tire and Auto on Kent Island. This art is for sale - Stop by and check it out!

Lobster Night at Rams Head Shore House:
Ongoing in 2018

Mondays are "Lobster Night" at Rams Head Shore House in Stevensville! Get a full 1.5 lb lobster with a baked potato, corn, and side salad for $19.95! Call and reserve your lobster because they go fast - (410) 643-2466

You can make a difference:
August 2, 2018

Have you seen all of the debris in our water?

From Kent Island Beach Cleanups - KIBCU - This problem won't be fixed overnight, and the debris from the dam won't just disappear.

How about we ALL come together and get out where we can and go clean some of this junk up? You don't have to get a lot... every little bit counts.

Itz-A Chicken in Chester Lunch Special:
Ongoing in 2018

Get a quarter-Peruvian Chicken with a side of White or Fried Rice and a choice of either Black Beans or Pinto Beans all for only $5... Valid Monday-Sunday 11AM-4PM. Itz-A Chicken is located on Piney Creek Road in Chester.

Fosters for Dogs Needed:
Ongoing in 2018

Chesapeake Cats and Dogs is looking for people to foster dogs! The more fosters they have, the more lives they can save! Please click here to apply to be a foster: http://www.chesapeakecatsanddogs.org/volunteer/benefits-of-fostering/

Free Logs, both Hardwood and Pine:
Ongoing in 2018

Free Logs, both Hardwood and Pine!! Must take a Large Truck Load - Free Delivery! Also - Free Large Quanity of Wood Chips!! Must take Large Truck Load (20 Yards)!! Free Delivery - Call 410-827-5198 to be put on our list!!

QAC Commissioners Seek Citizens for Boards & Commissions:
Ongoing 2018

The Queen Anne's County Commissioners are looking for interested county residents to serve on a variety of county boards and commissions. The appointments will commence in the coming weeks and the terms vary. Applicants must be residents of Queen Anne's County. If you have applied previously, please send a new letter of interest and resume at this time. The deadline for applications is 4:30 p.m., October 28, 2016.
The following boards and commissions are seeking members: Animal Control Commission, Board of Building Appeals, Board of Zoning Appeals, Board of Electrical Examiners, Economic Development Commission, Employee Awards Committee, Parks and Recreation Advisory Board, Friends of Historic Christ Church Board of Directors, Kent Narrows Development Foundation, Planning Commission, and the Social Services Advisory Board.
For more details about each board and commission go to qac.org, click "Government" then "Boards and Commissions." Click the title of any board or commission and full details are available, such as when and where they meet, members, etc.
If interested in serving on any of these committees, please send a letter of interest and resume to lthomas@qac.org or by mail to QAC Liberty Building, Att: Lynda Thomas, 107 N. Liberty St. Centreville MD 21617. For questions call 410-758-0322 x2003.
A Call To Action Is Needed:
May 01, 2018

A few days have passed since the tragic shooting in Parkland Florida. Leaving us to only guess where the next shooting will occur?

Action is needed.....
But where will it come from....and who will push for it. Do we need to start up a citizen action group? It will require devotion and commitment from many different citizens. Are we ready to do this?

I do believe in THE POWER OF THE PEOPLE....and I believe that change can come from even some of the smallest grass roots movements. There are several of these citizen action groups that have been formed around this topic of school shootings, over the last number of years. Several were formed by average citizens like stay at home moms, and they are now powerful voices. Some even have branches in every state of America.....
Everytown
Moms Demand Action
Sandy Hook Promise
Giffords

These are a few examples of such groups....but my problem with these groups....is that they all have a different agenda that does nothing to directly help out with the security of our schools. They want to push for gun control....or push for the mental health issue of the problem....and some want to address social changes in our homes. And these are grand causes that should be addressed. But not by me....not at this point.

We have a more immediate and urgent problem to solve first. I am not interested in sitting around debating the various issues.....I am not concerned with the various gun control or mental health issues. I am not interested in changing society. I am not interested in up coming elections....and threatening not to vote for certain government officials.

MY PRIMARY CONCERN IS THE SAFETY OF OUR CHILDREN AT SCHOOL.

I want to see security changes in every public and every private school in America....and I want to see it now! If I need to start small and help change things on the local level....that's fine. THIS IS NOT A GUN CONTROL ISSUE....ITS A SECURITY ISSUE FIRST AND FOREMOST.

Let's start small and start creating a list of proposed changes .....let's listen to our local leaders first and find out what they propose. Then we can evaluate things and push the changes we really want to see. We can help our local leaders find the funding they will need at the state level.

A Call To Action Needs to be a group of citizens that works towards the purpose of protecting our children at school.

We will not attend meetings....to sit around and debate the various issues. We can attend meetings to become familiar with each other.

We will not attend meetings....to sit around and criticize anybody or any agency.We can attend meetings to bring in lists of new security ideas.

We could also organize meetings with our local school and law enforcement officials. There is a lot of misinformation running around that needs to stop.

We can form a group That becomes the adult voice for our children....who are now marching in the streets.

We could start pushing Gov. Hogan to issue an executive order that puts a state trooper in front of every school in Maryland.....NOW....IMMEDIATELY!

Our local school and law enforcement officials are deeply concerned about this subject, and they need our support....and our ideas. We can not expect these same officials to fix this security problem....with out help from the society that caused it.

There are lots of direct security measures that we can start pushing for. We as a society messed up our American values. It will take an American society to support and help our officials to secure our schools. If we can't agree as Americans on gun control....can we at least agree to take the measures needed to secure our schools?

But what ever we do as a group should be positive and truly work only on the security issue. I say we leave the other issues to better suited forums.

THE BIG QUESTION
Is it time to form such a group? How many of you will agree to attend these types of meetings and bring your security ideas out in public.

How many of you are ready to give up some of your valuable time to attend a few meetings, make a few phone calls, maybe write a few letters.

Discuss this idea with your family, your friends, your neighbors, etc...Leave your responses here on this media ....IMMEDIATELY....so we can determine what is next.

If we can get enough people together, we can divide up the needed tasks at hand and organize a positive group for action. We don't need an army of people, but we do need a fair amount of people in order to become a voice that will be listened to.

We could start by meeting at the library next week and bringing in the various ideas for security considerations. If we can't get enough people to participate, there will be no way to form such a group.

Kevin G. Philpot
thenitestalker61@aol.com
571-245-4731

Opioid crisis theme at Chesapeake Charities awards luncheon::
Posted December 7, 2017

Lt. Governor Boyd Rutherford recognized the outstanding work being done to combat the heroin, opioid and fentanyl crisis, including that of Talbot County Sheriff Joe Gamble, at Chesapeake Charities' packed awards luncheon last month.

Sheriff Gamble was honored as Volunteer of the Year for his tireless commitment to prevention and education efforts in Talbot County. Accepting the award, Gamble talked about the shock of learning that high school students he had once coached had become heroin addicts, and the desperate parents who asked him for help. Realizing the need for prevention, he inspired his community to take action, starting the "Talbot Goes Purple" campaign with Talbot Rotary to raise awareness in the schools about the dangers of prescription opioids. "Every business, every family that we approached for help has been impacted by this epidemic," Gamble said.

More than 190 people from the Eastern Shore, Anne Arundel and Calvert counties listened to stories of heartbreak and hope in the heroin and opioid epidemic. "This crisis is on everyone's mind," said Chesapeake Charities Executive Director Linda Kohler. "We thought it made sense to use our annual event as a kind of forum for the community to focus on solutions and share a message of encouragement and inspiration." This was the 2nd annual Celebration of Charity event hosted by Chesapeake Charities.

The event program also included tributes to Bernie Fowler, Jr., founder of Farming4Hunger, as Philanthropist of the Year, and Samaritan House of Annapolis as Nonprofit of the Year. Fowler, who employs and trains former addicts and inmates to grow food and feed the hungry, was inspired to do something because of his painful experience with his daughter's heroin addiction.

Mike Goldfaden, Executive Director of Samaritan House, heads up the men's 25-bed long term residential recovery program. Goldfaden said there is at least a 30-day waiting list to get into Samaritan House and talked about their plans for doubling the size of the facility in 2018.

Keynote speaker Lisa Hillman told the story of her family's experience with her son's drug addiction and recovery. She advised families of addicts to tell someone about the problem and consider joining Al-Anon. Hillman pointed out critical areas for change: longer treatment times for addicts, more transitional housing to move addicts back into society, earlier education about addiction at the 5th, 6th and 7th grade levels.

Chesapeake Charities Board Chair Audrey Scott announced that Chesapeake Charities has established The First Responders Fund to support heroin and opioid emergency response efforts for local fire, police, emergency and medical personnel. Provisions will include equipment, supplies and training needed to protect first responders. For more information about the fund or to apply for funding, contact info@chesapeakecharities.org. A community foundation located in Stevensville, Maryland, Chesapeake Charities supports a wide range of charitable causes including arts, education, health and human services, animal welfare, and the environment. All of its 85 component funds have a common cause – a passion for making a difference in their communities. Chesapeake Charities serves organizations in eight counties: Anne Arundel, Calvert, Caroline, Charles, Dorchester, Kent, Queen Anne's and Talbot. They have invested more than $9 million in the Chesapeake Bay region since 2005.

For more information, contact Chesapeake Charities at (410) 643-4020 or info@chesapeakecharities.org, or visit www.chesapeakecharities.org. Chesapeake Charities is accredited by the National Standards for U.S. Community Foundations.

Southern Kent Island Sewer Project Receives National Recognition from the U.S. Environmental Protection Agency::
November, 2017

The EPA sited "excellence and innovation" this week when they recognized Queen Anne's County's Southern Kent Island Sewer System. "For decades, the Clean Water State Revolving Fund has supported critical water infrastructure projects that help grow the American economy and support our way of life," said Mike Shapiro, acting assistant administrator for EPA's Office of Water. "These projects are a testament to the power of the Clean Water State Revolving Fund in leveraging investment to meet the country's diverse clean water needs."

Queen Anne's County is utilizing the fund to improve water quality in the Chesapeake Bay by eventually connecting all 1,526 properties in the nine communities that had failing septic systems. Phase I of the project is currently underway and connecting the 774 homes in Kent Island Estates and Romancoke. This $55 million project is partially financed by a $34 million CWSRF loan for disadvantaged communities that includes $1.2 million in loan forgiveness, a low 0.8 percent interest rate, and a 30-year repayment term.

The failing septic systems are generally on small lots with marginal soils and high groundwater. Upgrading Southern Kent Island to sewer service will not only remove 7,000 pounds of nitrogen each year from Chesapeake Bay, but will also benefit the community by improving property values, all while keeping the project affordable at under $100 per month per customer, according to the EPA.

County Commissioner Mark Anderson said, "During the District Four Commissioner campaign in 2014, I had occasion to hear the reasons both pro and con on this public sewer project. After being elected to this office, I had the authority to get the facts versus the theories with converting many septic systems in South Kent Island to a public sewer processing plant. I had input from other jurisdictions with similar systems, input from our own sanitary engineers and health department professionals. My investigation found no small number of these septic drain fields on South Kent Island were failing, and based on soil hydrology, I knew many more were to follow. The real estate property market in South Kent Island was in disarray with an over-hang of pending health issues some properties could not be sold. The largest asset most people own is their home, and that asset was being devalued. The foreclosures appeared in good neighborhoods. The thoughts that too much traffic would clog Rt. 8 was lessened by lot consolidation required by loan from the state and this substantially cut the number of buildable lots in the service area." "When the time came to cast that critical vote, I voted to move ahead because the facts said that would be the fairest solution for the most, and this needed project passed 3-2," Anderson said. "A lot of work preceded that important vote including the General Assembly's help and the assistance of our partners in state government, without whom none of this improvement could have occurred. Lastly, we have a competent and devoted staff in our Health Department and the county Department of Public Works Department on whose professional expertise I found invaluable. This EPA recognition validates the creativity and joint effort on this the long road taken for a project and is the absolute right thing to do."

No more 911 call busy signals on the Midshore::
Posted September, 2017

911 Dispatchers on the Midshore are joining ranks to ensure that 911 callers do not get a busy signal; instead overflow calls will roll over to another trained dispatcher in a neighboring county to insure that all calls are answered by a professional.

"About 70 percent of 911 calls come in via cell phones," said Director Queen Anne's County Department of Emergency Services, Scott Haas. "Today, after six 911 cell phone lines are in use, the caller gets a busy signal. Our partnership with Kent, Caroline, Talbot and Dorchester Counties will eliminate that problem."

This will be particularly important when there are simultaneous emergencies. For example, if there is a car accident on Route 50 with multiple witnesses calling 911, while elsewhere in the county someone is experiencing heart attack symptoms and someone else is hurt in a farming accident.

All Midshore dispatchers are trained in life safety instructions such as guiding someone through the steps for CPR, controlling bleeding and even childbirth. "The message I really want to send to the public is that if you dial 911 and the call is answered by another county – do not hang up," said Haas. "We are working together and help is on the way."

NATIONAL CHILDREN'S ORGANIZATION ESTABLISHES LOCAL CHAPTER:
July 2017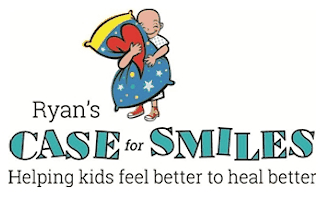 Cindy Kerr began making pillowcases for her son Ryan more than a decade ago to brighten up his hospital room and put a smile on his face during his cancer treatment. While Ryan is no longer with us physically, his legacy lives on in Ryan's Case for Smiles. Today, there are more than 120 chapters comprised of thousands of volunteers and more than 1.4 million pillowcases have been delivered. A local chapter of the organization has been established under the leadership of local resident Kristy Christman of Centreville.

Ryan's Case for Smiles (formerly known as ConKerr Cancer) is one of the few volunteer organizations solely dedicated to helping sick children cope with the stress of life changing illnesses and injuries. Providing children with whimsical pillowcases give them an emotional boost and remind them they are not defined by their illnesses. This simple gift provides proven stress relievers including distraction and hope that enhances the emotional well-being of the children and their families.

"I was inspired to become more involved with this organization after feeling it's impact firsthand. A few years ago, our middle son was hospitalized and underwent surgery. While in the hospital, his nurse gave him a brightly colored pillowcase that immediately brought him a sense of comfort and safety. It seemed like something very simple at the time, but the impact was priceless. I wanted to learn how I could get involved so after looking into the organization, I taught myself how to sew a pillowcase. I made a few and sent them in for donation. It was very easy and I felt a great sense of pride and joy that I was helping to bring comfort to a child that was going through a difficult experience. I was very excited to see that the organization needed a chapter coordinator in my area. I had been looking for a meaningful way to give back and volunteer my time, and I just knew this was the perfect fit.", said Kristy.

If you would like more information about the organization or if you are interested in volunteering or donating, please contact Kristy Christman at 443-262-6310, Email: caseforsmilesannapolisshore@gmail.com, or visit www.caseforsmiles.org
Kent Island Kmart Offers Military Discounts on Tuesdays:
Tuesdays in 2018

Every Tuesday Kmart on Kent Island offers military people and their families a discount. So if your active or retired stop in every Tuesday for your discount. Cashiers will have the one time use coupons. Some exclusion do apply see store for details. Kmart is located in Stevensville.

Volunteers Wanted at your Local VFD:
Ongoing

QAC Fire & EMS Commission has sounded the alarm… Will you answer your local volunteer fire department's call for help?
The Queen Anne's County Fire & EMS Commission, is kicking off October Fire Prevention Month with a Call for Volunteers to fill a variety of membership positions in both emergency response and non-emergency response roles.
The QAC Fire & EMS Commission represents all 9 county volunteer fire departments located in Church Hill, Crumpton, Grasonville, Goodwill (Centreville), Kent Island (Chester), Queen Anne-Hillsboro, Queenstown, Sudlersville and United Communities (Stevensville. The goal is to boost membership in these departments.
Here, as in most rural counties, volunteers make up 100% of the emergency fire & rescue service, and they work in collaboration with the Department of Emergency Services career EMS Units to provide medical care to the citizens and visitors. In addition to emergency response members who provide Fire and EMS services, these departments also require non-emergency response members who provide administrative services to keep the department running smoothly including bookkeeping, fundraising, recruitment, community outreach, and supporting emergency response personnel on fire scenes.
Anyone 16 or older may join their local fire company. The benefits are significant and growing. They include free training, a Maryland income tax deduction, life insurance policy, LOSAP years of service reimbursement program and insurance while on the job.
For more information or to apply for membership; stop by your local Volunteer Fire Department, visit www.qacfec.org, find us on Facebook Queen Anne's County Fire & EMS Commission or call (410) 758-6027. Join today. To view the recruitment video check out https://youtu.be/8tOMfOgSZQY.
Band Members Needed!
Ongoing in 2018

The Kent Island Community Band is currently looking for new members. We are looking for musicians who play trombone, euphonium, tuba and percussion, but all concert band instruments are welcomed. We rehearse on Tuesday evenings from 7pm to 8:30pm in the band room of the Stevensville Middle School, 610 Main Street, Stevensville, MD 21666. For more information, visit www.kicb.org or call Dee Dee Miller at 443-995-2297.